Gifts & Must-Haves
The 10 things you need for a cool St. Patrick's Day party
Gifts & Must-Haves
The 10 things you need for a cool St. Patrick's Day party
Skip the tacky decor — here's how to do St. Pat's the chic way.
If St. Patrick's Day isn't the perfect time to throw a party, we don't know what is. If you're planning to celebrate the luck o' the Irish this year, you'll love these ideas for bringing a festive feeling to your gathering. From DIY crafts to recipes for tasty treats, we've got everything you need for March 17.
Studio DIY
1. DIY clover patch cake toppers
Adding a festive flair to St. Patrick's Day doesn't have to be expensive or complicated. These adorable green clover cake toppers are the perfect homage to the holiday and can be used on cupcakes, pancakes or muffins, too.
Design*Sponge
2. Homemade leprechaun spirits
These mini bottles of ale are the perfect thing to serve at your St. Patrick's Day party or give out as party favours. Design the labels yourself, then fill the miniature bottles with liquors like Irish Whiskey or Goldschlager, or limeade for a non-alcoholic option.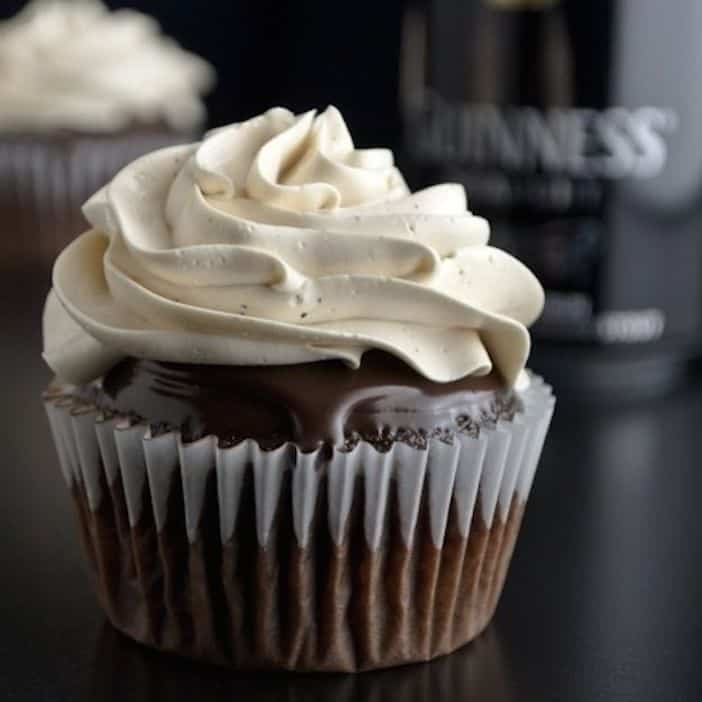 Jillian Harris
3. Irish cupcakes
Guinness beer might be a St. Patrick's Day must-have but you can take things one step further: Delight your guests with chocolate cupcakes flavoured with Guinness. This yummy cupcake recipe comes to you via the lovely Jillian Harris (via her cousin Tori of Fraiche Nutrition) and we'd be lying if we said it wasn't ALL we're thinking about right now.
Sugar and Charm
4. Drunken leprechaun cocktails
Guinness beer, Jameson Irish Whiskey and a honey syrup ... that's what's at the heart of this tasty cocktail that will make you wish it was St. Patrick's Day every day. (But go ahead — whip these up whenever you feel like it ... we won't tell!)
Love of Family and Home
5. DIY split pea wreath
Once a staple of Christmastime decorating, wreaths are now totally au courant no matter the holiday. For St. Patrick's Day, why not adorn your front door with this split pea wreath that's super easy to make? It's not only perfect for March 17 but also a beautiful way to welcome the new season approaching.
The House That Lars Built
6. DIY marbled shamrock party hats
We all know it's not a party until everyone's wearing a party hat, right? This St. Patrick's Day, skip the cheap store-bought toppers and make your own. These marbled shamrock party hats are a great DIY to try with the kids.
The Farmette Cookbook by Imen McDonnell.
7. Homemade Irish cream
Sure, you can buy Irish Cream in the store but did you know that you can also make it yourself? The perfect drink for a St. Patrick's Day celebration, this homemade Irish Cream is easy to make and cheaper than hitting the liquor store, too!
Pottery Barn
8. Pillow cover
Updating your decor for St. Patrick's Day is easy with this simple cotton pillow cover. It's perfect for the holiday but is also a fun way to welcome spring into your home ... and hopefully the luck o' the Irish, too. This Pottery Barn pillow cover (US$30) also reverses to a solid ivory when the season is over, giving it longevity in your home.
Pretty Handy Girl
9. Potted clover
Clover might seem like a pesky problem in your yard but you can get rid of them and create a pretty potted houseplant at the same time ... the perfect addition to your home for St. Patrick's Day!
Brit
10. Lucky Charms treats
If you love Rice Krispies squares, you're going to LOVE this. Substitute the traditional Rice Krispies with Lucky Charms in honour of St. Patrick's Day, and you'll have a tasty treat the entire family will love. Just add marshmallows and butter.