Style Destination
Style destination: Ravello, Italy
Style Destination
Style destination: Ravello, Italy
Plan an escape to the tiny hilltop village of Ravello on Italy's Amalfi Coast.
The heart-stoppingly beautiful Amalfi Coast is a definite bucket-list destination and its tiny hilltop village of Ravello is the perfect base for experiencing la dolce vita.
Day 1: Perched 1,000 feet above the sparkling Tyrrhenian Sea, Ravello seems a world away from nearby tourist-heavy Positano, and that is its charm. Check into a sea-view suite at the Villa Cimbrone, a complete splurge but worth it for a memorable experience. the 11th-century villa, which counts Greta Garbo, Virginia Woolf and Winston Churchill as past guests, features frescoed ceilings, majolica floors, marble fireplaces and antique furniture for a feel that's more aristocratic abode than hotel.
Head to Ravello's main square for a tasty espresso at Caffé Calce and take in the view of the Duomo di Ravello before exploring the shops. Cameo Factory sells hand-carved cameos as well as jewellery, and Ceramiche da Lena showcases an Amalfi Coast specialty: intricately patterned and colourful handmade ceramics.
Foodies won't want to miss Gusti e Delizie for local delicacies (pick up colatura, an anchovy sauce that's scrumptious on spaghetti) and La Cucina di Sofi, which pours some of the region's best limoncello.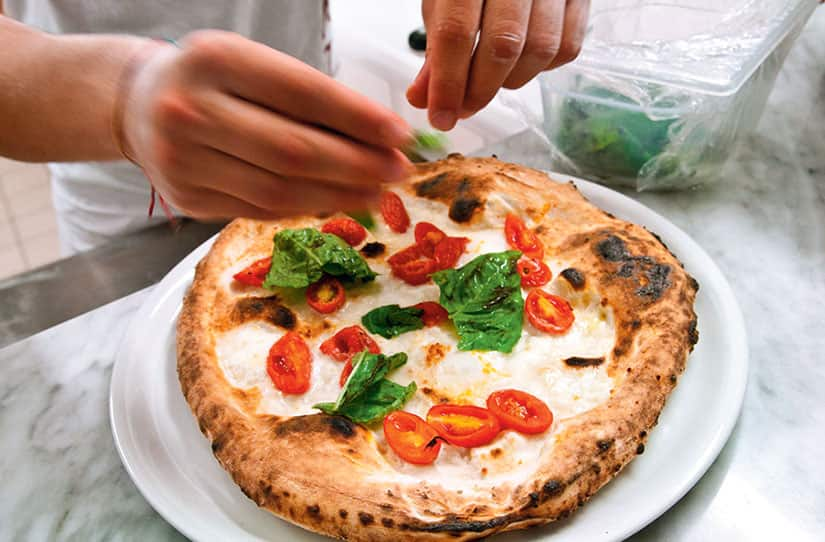 Celebrate your purchases with a Neapolitan pizza on Mimi Bar Pizzeria's sun-dappled patio. Return to the villa to put on some comfy shoes for a walk to the neighbouring town of Atrani. The trek, which takes about 45 minutes, is a step back in time. there are no roads – just staircases leading down to the coast through residential gardens and lemon and olive groves. Take the bus back to Ravello and tour the extravagant gardens at Villa Cimbrone (hotel guests have the gardens to themselves at night) and its Terrace of Infinity. Lined with marble busts, this balcony offers breathtaking views of the sea and sky. Drop by the villa's veranda bar for a glass of Prosecco before having a late dinner at Vittoria, a restaurant popular with the locals. Order the sea salt-encrusted spigola, octopus carpaccio and a glass of local winemaker Marisa Cuomo's Furore Bianco Fiorduva.
Day 2: No trip to Ravello would be complete without a visit to Mamma Agata's cooking class. Mamma Agata, who has cooked for Audrey Hepburn, Jacqueline Kennedy Onassis and Humphrey Bogart, has since passed her recipes and her apron on to her daughter, Chiara, and son-in-law, Gennaro, a sommelier. They welcome guests to their sixth-generation family home and terraced garden for a day of cooking and eating. Visitors are wisely advised not to eat breakfast and to forgo dinner plans. Each class begins with a slice of heavenly lemon cake – made with citrus from the garden – and features family recipes, such as the simply sublime Farmer's Spaghetti. Book well in advance and don't be surprised if you find yourself next to a famous politician, musician or actor (Pierce Brosnan is a fan).
Day 3: Dig in to the villa's complimentary breakfast, which features traditional Italian offerings like silky prosciutto and creamy burrata, and then take the ferry from Amalfi to the storied island of Capri. Cars are prohibited between November and Easter, making navigating this magical place a joy. Go for a beach day: Rent a chair and umbrella from one of the local beach clubs and then have an alfresco lunch at Aurora, which serves the island's best pizza. Don't leave without treating yourself to a pair of handmade sandals from one of Jacqueline Kennedy Onassis's favourite shoemakers, Canfora.
Photo Gallery
Style destination: What to pack when visiting Ravello
Comfortable flats
Embroidered smoking slippers in Lemon Coral, Soludos, $65 US.
Image by: soludos.com
Style destination: What to pack when visiting Ravello
On-the-go sanitizer
Resurrection Rinse-free hand wash, Aesop, $13.
Source: aesop.com
Style destination: What to pack when visiting Ravello
Easy accessory
Ravi scarf in Russet, Block Shop, $75 US.
Source: blockshoptextiles.com
Style destination: What to pack when visiting Ravello
Turkish blanket
Fouta beach towel in Poppy, Serena & Lily, $48 US.
Source: serenaandlily.com
Style destination: What to pack when visiting Ravello
Wellness watch
Charge HR fitness tracker in Tangerine, Fitbit, $150 US.
Source: fitbit.com
Style destination: What to pack when visiting Ravello
Beach bag
Straw market tote, J.Crew, &65.
Source: jcrew.com