Style Destination
This is where to go if you're looking for a stylish summer vacation
Style Destination
This is where to go if you're looking for a stylish summer vacation
We present our editors' 10 favourite destinations in Canada and abroad, plus the top places to stay and visit, as well as eat and drink.
Quebec City
Located in the heart of Old Quebec, atop Cape Diamond, this 123-year-old castle-like hotel exudes charm and character in every possible way.
Eat/Drink: Le Lapin Sauté
This delightful little eatery has a creative menu. Step out of your comfort zone and try the rabbit lasagna.
The 83-metre-high waterfall can be viewed from ground level, a cable car or the suspension bridge.
Charlottetown
Stay: The Great George
This boutique hotel encompasses a total of 15 heritage buildings and offers rooms with plenty of East Coast character and charm.
Eat/Drink: Terre Rouge
The island is synonymous with fresh food, and this farm-to-table restaurant is no exception.
Do: Victoria Row
During the summer, this pedestrians-only block is the place to be. Featuring casual restaurants, bustling bars and live music, Victoria Row is the perfect spot for having a relaxing stroll or a refreshing summer bevvie on a patio.
Muskoka, Ontario
If you're travelling with a group, opt for a treetop villa. Each one offers a 270-degree view of the lake and a private hot tub.
Eat/Drink: Muskoka Brewery
Treat yourself to an afternoon tour of the brewery (and pick up a six-pack of its award-winning cream ale while you're at it).
Shop: Cottage decor shops
Browse quintessential cottage decor stores, such as Port Carling's Muskoka Living Interiors, Peaks & Rafters and Lock + Quay, which have outfitted so many of the cottages that grace our pages.
Four iconic glass pyramids adorn this must-visit botanical garden.
Eat/Drink: Tres Carnales Taqueria
It's widely regarded as one of the best Mexican restaurants in Canada, and for good reason. The owners keep the main menu simple and impress with fresh ingredients.
Shop: Duchess Provisions
Here, you'll find cookbooks, gourmet foods and kitchen tools, including cookie cutters in nearly any shape you can imagine. Stop in at the next-door Duchess Bake Shop, a worldclass bakery, to sustain your sightseeing adventures with something sweet.
Vancouver
Stay: Opus Vancouver
In the heart of Vancouver's vibrant Yaletown neighbourhood, this modern elegant boutique hotel boasts top-notch amenities.
Eat/Drink: La Pentola della Quercia
Reserve a table at this award-winning restaurant with a superb northern Italian-inspired menu.
Shop: The Cross Decor & Design
One of the Style at Home team's best-loved shops in Canada, The Cross has everything from bedding and dishes to artwork and kids' stuff – all with a refined yet relaxed and playful aesthetic.
Nappa Valley, California
This classy resort in Calistoga has airy cottages with soaring ceilings, and the bicycles parked at the doorsteps are yours to take for a spin.
Eat/Drink: Round Pond
This winery, kitchen garden and olive mill offers the quintessential Napa experience: good food and great wine.
Do: Meadowood
Set among 250 wooded acres in the hills of St. Helena, Meadowood resort is the place to wine, dine, play and be pampered. Take a croquet lesson on the sunny lawn with the resident pro.
New York City
This former barrel­-making factory in Brooklyn nails that elusive warm industrial vibe with lofty rooms, vintage­ style wallpaper, soaring windows and eclectic furnishings.
Do: The High Line
Stroll through this elevated park that runs along an old freight train line, featuring stunning views of Manhattan and amazing landscape architecture with plants sprouting up through the tracks.
Shop: Chelsea Market
You'll find more than 30 vendors here, including hunger­inducing food stands, a well­stocked kitchenware shop (Bowery Kitchen Supply) and a fabulous flea market (Artists & Fleas).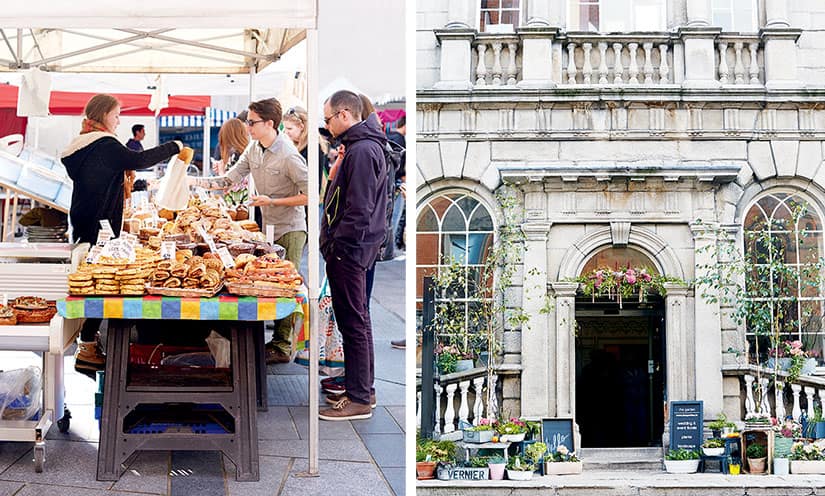 Stay: The Morrison Hotel
Perfectly situated on the banks of the River Liffey in the city centre, this hotel is a short walk to a ton of Dublin's main attractions.
Do: Fab Food Trails
Take an insider's look at the city's past and culinary heritage with a local guide.
Shop: Dublin Flea Market
If you're in the city on the last Sunday of the month, check out the Dublin Flea Market for all kinds of antiques and vintage knick-knacks.
Paris, France
Eat/Drink: Septime
With its cool laid-back vibe and stellar food-and-wine pairings, this popular locale is an absolute must-visit for travelling foodies.
Shop: Merci
Peruse new and vintage items in this shop that has an emphasis on French-designed goods. Its Used Book Café is also worth checking out.
Eat/Drink: Carette
Located in the Place des Vosges, at the heart of Le Marais, this is one of Paris's prettiest patisseries. Our editor's pick: a double espresso and a pain au chocolat.
Stay: Villa Cimbrone
This hotel is a complete splurge but worth it for the memorable experience. The 11th-century villa, which counts Greta Garbo, Virginia Woolf and Sir Winston Churchill as past guests, features frescoed ceilings, majolica floors, marble fireplaces and antique furniture for a feel that's more aristocratic abode than hotel.
Eat/Drink: Mamma Agata's
No trip to Ravello would be complete without a visit to Mamma Agata's cooking class. Each session features her family recipes, such as the simply sublime Farmer's Spaghetti.
Take the ferry from Amalfi to the storied island of Capri. Go for a day trip: Rent a chair and umbrella from one of the local beach clubs and then have an alfresco lunch at Aurora, which serves the island's best pizza.