Colour
Update your quarters with these colour combos
Image: Stacey Brandford | Producers: Ann Marie Favot & Morgan Lindsay
Colour
Update your quarters with these colour combos
Great on their own but better together – here are three colour pairings we're loving right now.
1. Mint & Rose
While a contrasting green and pink scheme can convey a preppy Palm Beach feel, this combination of toned-down mint and rose is perfectly subdued and calming. The striking angles provide playful energy and a touch of 1980s pizzazz.
The wooden bench was painted pale pink to enhance the colour contrast. The geometric pattern on the rug plays to the graphic paint treatment on the wall. In a space lacking architectural features, paint creates the look of wainscotting. The playful diagonal line complements the funky fresh palette.
2. Black & White
You can't go wrong with black and white – there's a reason this duo is a classic. In this unfussy vignette, structural shapes and clean lines complement the monochromatic palette.
Bold black and white sartorial accessories punctuate this striking composition. Simple shapes reinforce the minimalism of this two-toned vignette.
3. Sapphire & Lilac
Pairing deep blue with pleasing purple evokes richness and regality, and when combined with soft touchable textures, it completes the recipe for a cozy luxe room.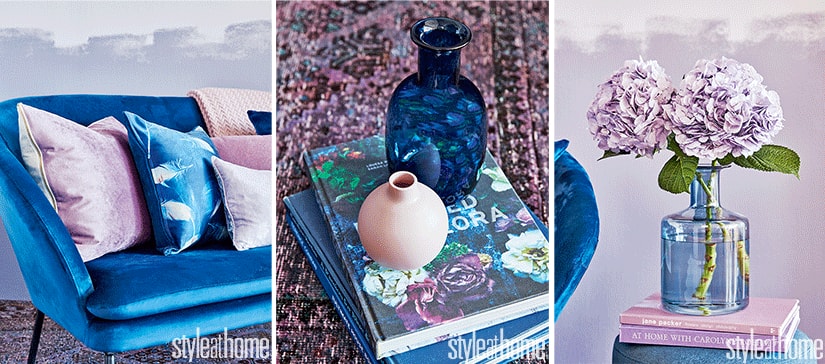 Two lilac shades are at play on this wall. Painting a rough border gives the soft sweet purple hues a contemporary edge. Layered textures lend the space a comfy lived-in feel.