House Tours
A city home gets decked out for the holidays with lush greenery and metallic accents
Image: Donna Griffith | Styling: Jessica Waks
House Tours
A city home gets decked out for the holidays with lush greenery and metallic accents
Designer and consummate hostess Jennifer Ferreira pulls out all the stops when getting her home ready for a holiday party.
As soon as the calendar flips over to December, you'll find Jennifer Ferreira pulling out boxes, dusting off decorations and decking the halls of her three bedroom, 2,000-square-foot apartment in a century-old, Tudor-style building. But she's not filling her home with holiday spirit just for herself and 12-year old son, Alexandre Louis – it's also for the countless friends and family members who will pass through her doors before the new year.
This Toronto designer is not only known for her chic interiors but also for her reputation as a consummate hostess, paying special attention to every detail – from the outfit she wears to the homemade food she serves to the music she plays. "It's not just about the decor," she says. "It's about togetherness, laughs and entertaining with love, something my grandmother imparted to me."
Jennifer's gatherings include everything from intimate sit-down dinners to lively cocktail parties for 20 guests. But whatever the size of the group, she ensures that the apartment has a welcoming glow. "Good lighting is a must," Jennifer says of her party-ready approach. "I dim all the overhead lights and place candles everywhere. There's no such thing as too many candles." She also lights a fire in her wood-burning fireplace – a rarity in an apartment – and loads up her real tree with white lights. "As a rule, a tree should have no fewer than 100 lights per square foot," she says of achieving just the right ambience.
As for her seasonal palette, Jennifer is a firm believer that festive accents should complement rather than overshadow the existing decor. In keeping with the high-contrast black and white scheme throughout the apartment, the designer boosts the wow factor with fresh greenery and a little shine. "It's definitely a less-is-more approach," she says, "but one or two metallics, such as gold and bronze, provide a touch of glam."
To keep a cohesive holiday feel throughout her home, Jennifer builds small displays in each room. "I create vignettes with candles and other decorative pieces, such as a wrapped box with pretty ribbon and some flowers," she says. "This year, I put a vintage top hat on the entry console and filled it with gold Christmas balls."
Once guests arrive and begin circulating, Jennifer cues up a favourite festive playlist that spans from classical to rap, with holiday tunes sprinkled throughout. Some years, she has even hired a pianist as a special treat. For casual parties, she loves to serve cheese and charcuterie trays as well as champagne and a signature cocktail. But when the occasion is more formal, like Christmas Eve, she goes all out, setting the table to the nines and preparing a homemade feast inspired by one of her grandmother's traditional Portuguese recipes: bacalhau com natas, a creamy salted cod dish.
"My grandmother, from whom I was inseparable, always cooked with so much love – you could taste it in her food – and I try to do the same," she says. "I'm happiest watching my family and friends enjoy their meals – it's an expression of my love for them."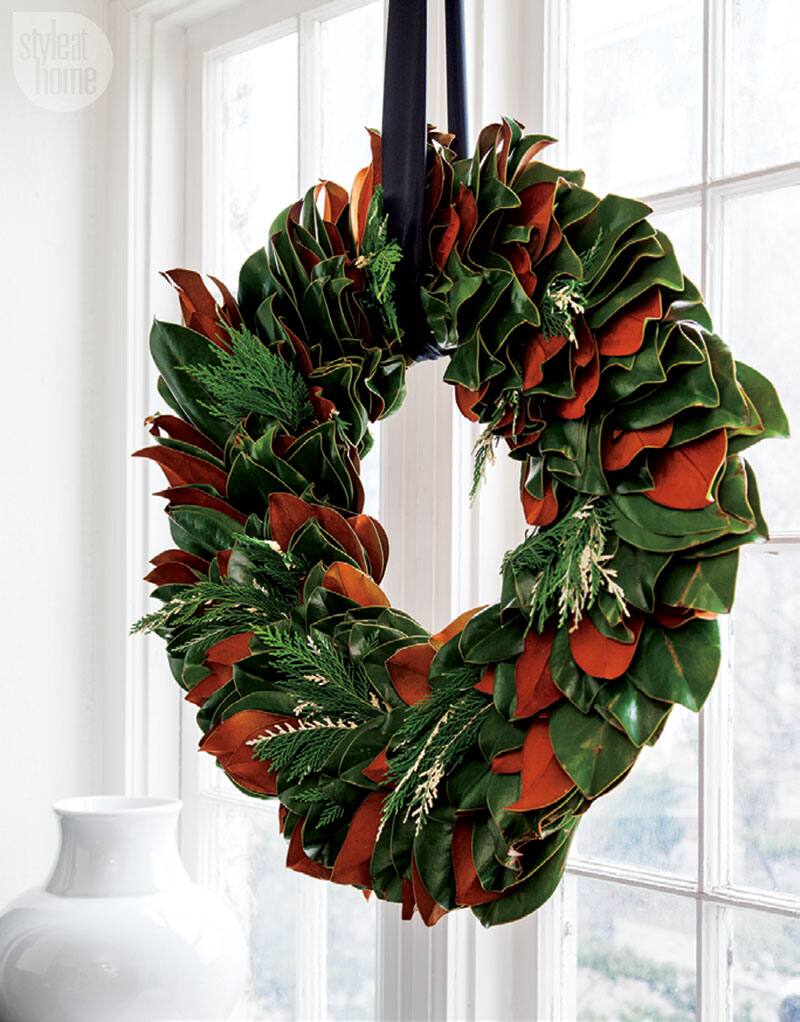 The apartment's wood burning fireplace is a natural gathering spot – and a great place for Jennifer's son, Alexandre Louis, to practice guitar. Jennifer offset the elegance of the antique mirror with natural boughs of cedar and magnolia.
Jennifer's holiday decor seamlessly blends with the living room's design. She swaps her usual toss cushions and throws for ones with plush texture to create a cozy, layered feeling. The Christmas tree, loaded with strands of white lights, creates a soft glow in the corner.
Jennifer sets the dining table a couple of days before a dinner party to stay organized. She favours bunches of white hydrangeas and roses in vases of different heights to make the table feel fresh and lush.
The sophisticated vignette on a console in the entryway epitomizes Jennifer's approach to holiday decor. Magnolia branches bring a natural quality to the space, while the top hat filled with gold ornaments adds playful glitz.
For casual gatherings, Jennifer puts together a cheese platter and a drinks station with flutes of champagne.