House Tours
A pink-speckled home that mixes modern and vintage-looking decor
House Tours
A pink-speckled home that mixes modern and vintage-looking decor
A shop owner brings a touch of Parisian charm to her 1950s home.
Michele Lee, owner of a chic little clothing boutique in Guelph, Ont., agrees with the truism that Paris is always a good idea. "The first time I went to Paris, it was springtime. The blossoms were out, and pink petals were everywhere. I walked around for four days, and there was a smile on my face the whole time," she says.

Michele was drawn to Parisian style long before her first jaunt to the City of Lights. "The architecture, the romantically imperfect furnishings, the fresh flower stalls – I love it all," she says. And this passion is reflected in the 1,800-square-foot home she shares with her husband, Sean, and their dog, Louis. Sure, the 1950s abode lacks an atelier, weathered shutters and a Juliet balcony, but inside, it's as pretty as Paris on a sunny spring day.

What attracted Michele to the house nearly 20 years ago was the vintage built-in cabinet at the end of a narrow hallway. "It reminded me of one in my great-grandmother's house, and no word of a lie, I actually bought this whole house because of that one cabinet," she says with a laugh. After moving in, she painted the walls white and added in wisps of pink. "I swear I sleep better on pink sheets," says Michele. "It's a colour that inspires me creatively, as well." In fact, one wall of her upstairs studio is painted pale pink, serving as a backdrop for her inspiration board.

Pops of pink appear throughout the rest of the home, too, and as spring rolls around, Michele adds in light touches, such as linen and rattan accessories to complement the shade. "Rattan's great because it looks vintage but not heavy," says Michele. "And given that the month of March is often miserable and chilly around here, the material serves as a reminder of the warm days to come."

Michele refers to herself as a "display person at heart," but she's quick to mention that her mom was an interior designer. "She made a strong impression on me as I watched her design rooms," says Michele. "She also had a great eye for fashion. We'd go back-to-school shopping and she'd lay out all the new pieces on the bed, then we'd create outfits together." To this day, Michele believes an outfit can influence a room's decor and vice versa. For instance, a sparkly dress might inspire the addition of something glittery to a room, or pretty drapery may call for a scarf in a similar hue.

If this makes you wish for a little Paris at home, Michele recommends adopting a wistful and playful attitude. "Fill your home with things that make you swoon," she says. And if you like something dated, use it anyway. "I've been repainting one of my mirrors for more than 10 years!" she says. "And I have a crazy ugly office chair that's so comfortable – I disguise it with a pink throw. When I see it, it makes me smile. The day that stops happening, I'll replace it."
"Louis, our French bulldog, loves the living room. No place is off limits. He's the king," says homeowner Michele Lee.
While the entryway is tiny, a black-framed mirror, black stair treads and a glossy black door with brass hardware make it pop.
Featuring hits of black and gold, the mostly white living room has thoughtful touches, such as a camera case that once belonged to Michele's grandfather. The nailhead-trimmed chair was an antiques market find. Black appears as an accent on the sconces by the fireplace and a framed photograph on the mantel. Michele changes the gallery wall all the time. "Originally, there was lots of colour, but right now I'm in a black and white phase." The round mirror is playful and unexpected.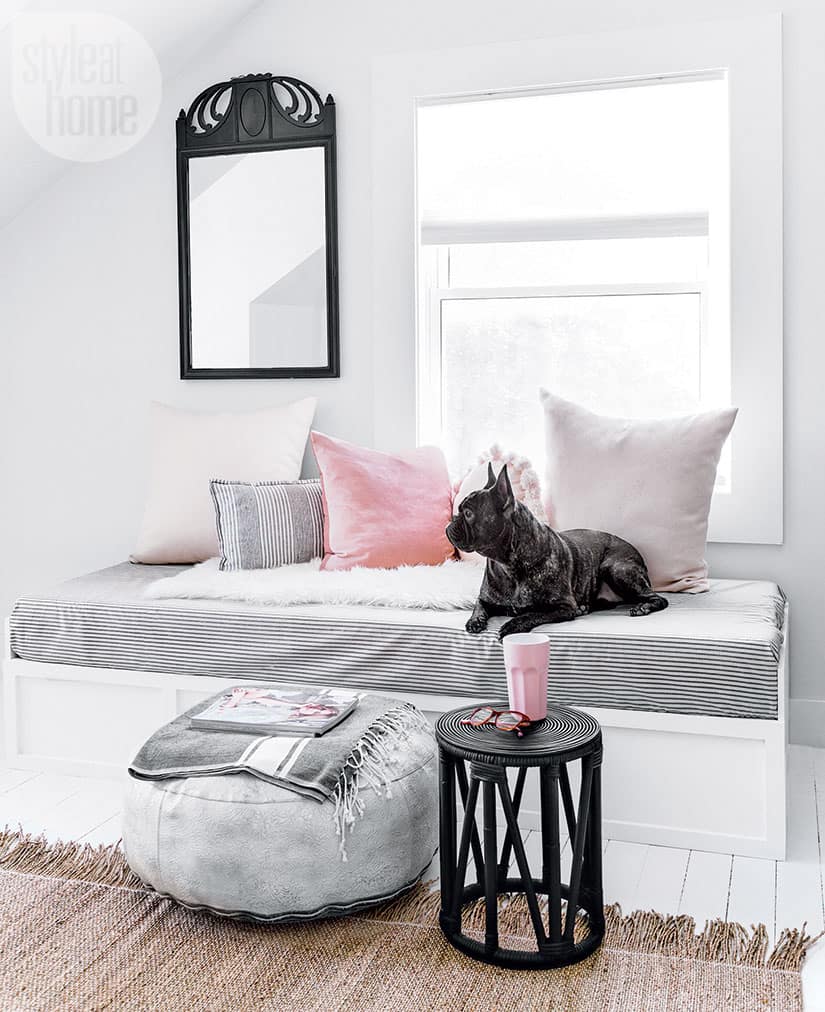 "This is my favourite room. I start my day here, writing in my journal, meditating or sipping coffee with Louis curled up next to me," says Michele of her studio. Sean built the daybed, which is covered in a French ticking-style fabric. Throws and toss cushions in soft colours were selected to welcome the lighter days of spring, while the wooden mirror frame and rattan side table were spray-painted black to ground the space.
Framed French postcards and ever-changing shelf displays keep the light-filled workspace in the dormer looking fresh. "I couldn't part with this desk or the old chair, so I just added the pink throw and updated the hardware," says Michele.
"This room has had a million different purposes," says Michele. "Right now, it's a library." She designed the whole room around the mirror, which reminds her of Paris. "Sean built the shelves – I get the ideas and he does the work!" Vintage chairs are covered with cozy sheepskin throws, and a rattan stool is airy and spring fresh.
"The bedroom's not fussy. Texture, not colour, is the emphasis," says Michele. The exception is the headboard. "It's old, but recovering it in blue velvet gave it new life."