House Tours
Interior: Bright and colourful holiday home
Image: Stacey Van Berkel | Styling: Christine Hanlon
House Tours
Interior: Bright and colourful holiday home
Toronto designer Jennifer Brouwer gives this luxurious new build home a seasonal spin with a dose of the unexpected.
Coral and blue, sand dollars and starfish, feathers and fresh roses. It doesn't sound like your standard Christmas decorating, but that's exactly what designer Jennifer Brouwer intended when she dressed this newly built 5,000-square-foot home for the holidays. "I'm always looking to do something different and not rely on the typical red, green and gold that we're all used to," says Jennifer. "This house is a good lesson in inspiration because there are beautiful things all around you that you can use for Christmas decor and really knock it right out of the park."
"Something different" was also what she wanted to create when she worked on this sprawling house in a flourishing Toronto neighbourhood with builder Unique Homes. Even though the house was built on spec, Jennifer made sure to keep the practical needs of family living in mind. With a centre-hall plan, soaring ceilings, oversized fireplaces, curving staircases and chunky mouldings, the interior is undeniably grand but not unlivable or stiff. "I was very intentional about creating a chic, distinctive look without making it too formal," she says.
To keep the aesthetic current and timeless with a hint of fun, Jennifer used a mix of furnishings in varying styles throughout. For example, the family room showcases retro, contemporary and transitional pieces juxtaposed with the room's traditional architectural features. The home's play of pattern and hits of colour – like vibrant coral, pale pink and smoky blue set against a neutral backdrop – make the rooms inviting and warm.
The house's elegant, livable aesthetic ended up providing an inspiring jumping-off point for this resplendent holiday scheme. "We wanted to use this house to show what people could do during the holidays and how they could create a cohesive look between their home and Christmas decorating," says Jennifer.
She started with the basics – a couple of wreaths, a tree and a few pieces of green garland – and layered on items intended to blend with the space's decor. The use of pearls was inspired by the kitchen's mother-of-pearl backsplash, for example. And pulled from the home's palette, of course, hits of coral and blue make it relaxed and fun. Jennifer also used unexpected motifs and accessories in festive ways. Seaside elements like sand dollars, shells, driftwood and starfish add to the distinctive, laid-back vibe but are also a clue to what the holidays – and this house – are all about. "They're a reminder to incorporate a little something that might be important to the family," says Jennifer. "Maybe they have a beach home. Maybe they have grandparents who live in Maine."
So when creating a seasonal setting, it's key to keep it meaningful. "Think of what you're most grateful for, and then you can use that notion to create a look that you can admire on such a joyous occasion," she says.
Designer Jennifer Brouwer says the living room is the epitome of her less-is-more philosophy. She used clean-lined, elegant furnishings to offset the space's grand architectural features.


Retro-style chairs, a classic arc lamp and a stainless steel-and-glass coffee table set against traditional features like the fireplace and built-ins give the family room an inviting, up-to-date look.
The abstract canvas painting above the fireplace creates a dynamic focal point in the family room and was the starting point for the home's colour scheme. Outdoor summer lanterns set on the coffee table and paired with presents add a subtle holiday touch.

A mix of patterns (like the ikat and chevron toss cushions on the sofa) and pops of coral lend interest and a modern touch. Gifts wrapped in faux bois paper are an easy, noncommittal way to include a trendy element in a timeless space.


On the mantel, a simple white feather tree decorated with gold balls is fun.

Upholstered chairs, a clean-lined pedestal table and a contemporary polished nickel light fixture create a cozy, elegant look in the kitchen's eating area.


The kitchen table features a cool palette of white, green and blue. Hydrangeas placed in a ginger jar serve as the centrepiece, while potted boxwood plants adorned with ornaments act as tiny Christmas trees.


The neutral kitchen, with its luxurious mother-of-pearl backsplash, is grounded by a dark island, which provides the perfect place for serving meals.


The orange-toned centrepiece is fairly simple to keep the focus on the quirky place settings.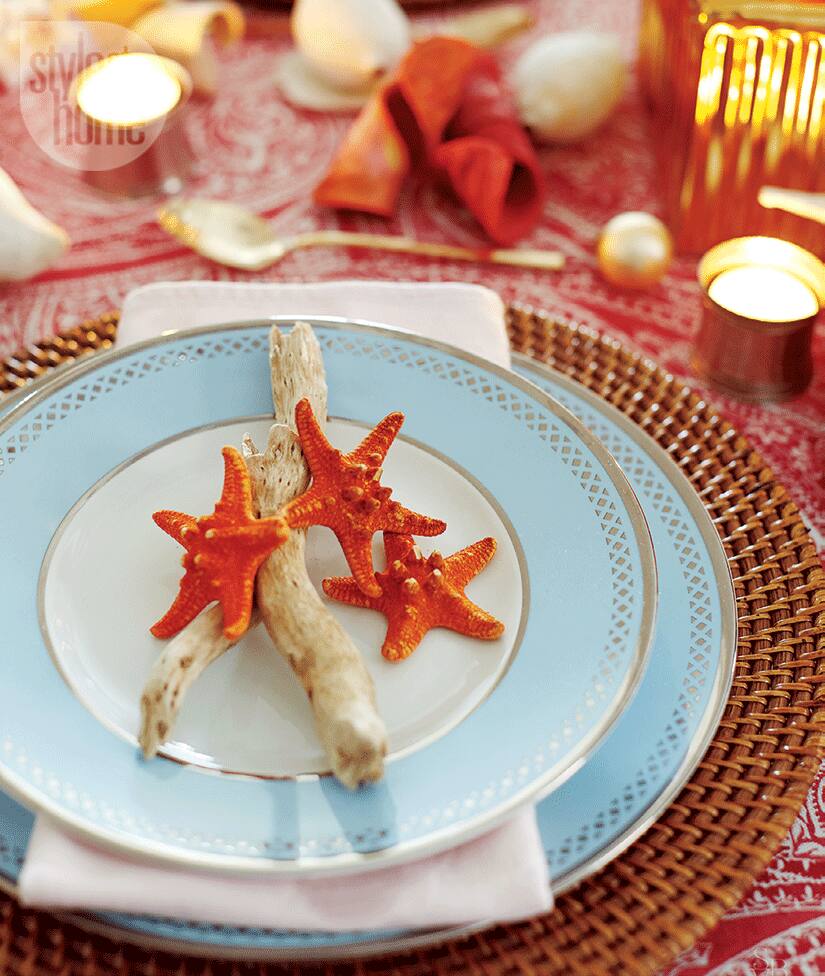 Set for Christmas dinner, the table showcases a lively layering of pattern, texture and colour with a coral paisley-print tablecloth, robin's egg blue plates, rattan placemats and baby pink napkins. Driftwood and starfish are unexpected choices but work with the traditional-meets-fun look. The Christmas tree incorporates the entire scheme, dressed in pearls, feathers, poinsettias and glittery ornaments. "Wrap your tree in things you love," says Jennifer.