House Tours
Jillian Harris's home is washed in a beachy white, cream and blue palette
Image: Janis Nicolay | Design: Jillian Harris
House Tours
Jillian Harris's home is washed in a beachy white, cream and blue palette
How Jillian Harris designed her dream home from scratch – and from a distance.
In pictures, Jillian Harris's newly renovated West Kelowna, B.C., home is idyllic. The bright beachy rooms are washed in soft white, cream and the palest blue. You can almost feel the balmy Okanagan breeze that blows in through the wall of French doors, which open to the deck that overlooks her one-acre property, the pool and, in the distance, hills dotted with vineyards and orchards.
In everyday life, the house – which Jillian shares with partner Justin Pasutto, two-year-old son Leo, boxer pooch Nacho Cilantro and, soon, a new baby daughter – is as down-to-earth and quirky as the designer and TV personality herself. Jillian won't let you buy into the picture-perfect facade for a second. "Right now, the living room coffee table actually has painter's tape all over it," she says with a laugh. "I've taped skewers on it because Leo loves to drive his little cars over the 'speed bumps.'"
In some ways, the 10-month renovation of the 3,500-square-foot 1970s-era house was just as far from what you'd expect. It's been finished for around a year now (savvy readers will note that the master suite made the cover of our September 2018 issue), and Jillian is still amazed it came together. "I was so busy driving back and forth to Vancouver to film Jillian and Justin and Love It or List It – all while taking care of a new baby," she says. "I was flying by the seat of my pants – I didn't go to a single showroom. I designed the whole place by getting people to send me samples and saying, 'Yup, this'll do!' I remember thinking, 'This isn't the way I want to do it.' I wanted to take my time, but it didn't turn out that way."
The dramatic reno involved blowing out walls to open up the living room, dining room and kitchen located on the split-level's upper floor. "It was basically one big blank slate," says Jillian, who treated said slate with a palette of pale hues featuring pops of blue, gold and pink, and warmed it up with wide-plank driftwood-look floors and huge reclaimed barn beams. "Justin really wanted them," explains the designer, "and I'm so happy he pushed for them – they look so good." A new fireplace with a bold mantel and herringbone-brick interior acts as the focal point of this great room, with additional interest injected via architectural detailing like wainscotting and arched details on built-in bookcases. It's the perfect envelope for her selection of low-key light-hued furnishings that impart a comfy relaxed vibe.
With everything now in place, Jillian has the space and style to host a crowd... but is putting big get-togethers on the back burner for a while. "Knowing that the baby's coming in October, I'm trying to slow down a little bit – to make sure that I'm breathing, relaxing and enjoying life rather than stressing myself out," she says. "And my family is so laid-back. They don't need a big fancy dinner – they're happy to order takeout."
Tall built-ins flanking the fireplace let Jillian display collectables that help define and personalize her look. "The built-ins were a simple design, and then cabinetry designer Clarice Maidment added the pretty arched details," she says. The units also help Jillian maintain that carefree aesthetic amid the chaos of family life. "All of Leo's toys and books are in the cupboards," she says, "so tidying up is a breeze. We just toss everything in and shut the doors!"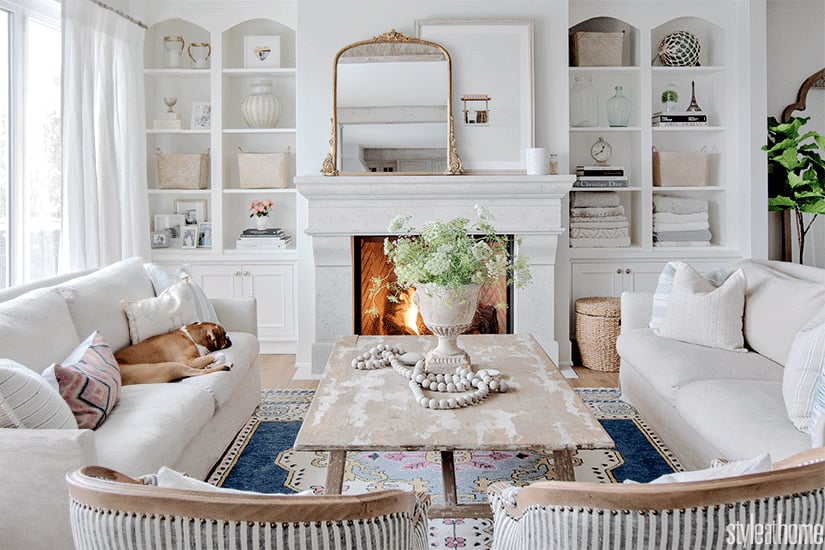 Our cozy living room is one of our favourite spaces," says designer and homeowner Jillian Harris, who spared no expense with the room's focal point. "Once I saw this fireplace, no other would do. It's so gorgeous." Nacho Cilantro the boxer obviously agrees – it's where you can find him most mornings and most evenings just before bed.
The dining room is filled with light thanks to French doors along one wall. Paired with flowing drapery and traditional wainscotting, they lend historic flavour to the newly renovated space. The arresting light fixture draws the eye up to the spectacular ceiling beams and adds a hint of glimmer to the room. Avid entertainers, Jillian and her partner, Justin Pasutto, installed a bar equipped with wine fridges, beverage drawers and cupboards to store all of their serveware.
Jillian created a cheery family-friendly kitchen with panelled cabinets, a huge island (where the family eats most meals) and a big farmhouse sink under a window overlooking the yard. "The window folds open to a little outside bar where the kids can sit on stools and have a snack while taking a break from the pool," she says. The designer splurged on things like the range, Caesarstone countertops and a built-in espresso maker but tempered her spending with pieces such as big-box stools and dining chairs, as well as surprisingly affordable cabinetry from a local maker.
An eight-burner gas range and pot filler make whipping up dinners a snap. A white finish gives the hood a low-key presence that suits Jillian's summer-in-all-seasons aesthetic. Her other kitchen secrets? Opt for drawers over cupboards ("they make everything ultra functional"); integrate appliances, always ("it makes a kitchen look cleaner and bigger"); and incorporate lots and lots of windows (to let in ample natural light).
When paired with crisp white walls, front doors the colour of sun-bleached denim set a beachy tone in the foyer. Jillian wrapped the space in traditional wainscotting to bring interest and coziness to the predominantly white palette.
With its quaint oval window, nostalgic schoolhouse pendant light, shiplap wall panelling and star-patterned cement floor tiles, the pantry is super pretty and organized to boot – Jillian spent hours measuring cereal boxes, cans and jars to make sure she'd have enough room for everything.