Kitchen
A 1960s kitchen gets updated with a blend of dark tones and light touches
Image: Ashley Capp | Design: Switch Studio | Styling: Catherine Therrien
Kitchen
A 1960s kitchen gets updated with a blend of dark tones and light touches
Designer Staci Edwards scores the kitchen of her dreams through a major renovation.
Renovating a home can sometimes feel like giving birth to a baby. As the proud owner of a redone-from-top-to-bottom Victorian and prouder mom to seven-month-old Spencer, designer Staci Edwards knows a lot about both.

Two years ago, ready to advance to their forever home, Staci and her partner, Chris Jackson, bought an 1895 abode in downtown Burlington, Ont. The house was well-kept but hadn't been renovated since the 1960s. "It was a total time warp!" says Staci, who undertook a full redo that involved rejigging the main floor to eliminate an inefficient secondary stairwell and improve flow.

Ideally located at the rear of the house with easy access to the backyard barbecue, the new 230-square-foot kitchen is everything the pair wanted and more. Like their sweet son, this room is a happy blend of Staci and Chris: "It's a fifty-fifty split," says the designer, who took great care to balance her partner's tastes with her own. The man's man in Chris got his dark tones and wood finishes in the form of navy cabinetry, as well as a butcher block island countertop and matching floating shelves — and he got a built-in bar to boot. For her part, Staci indulged her love for light and bright with white wall paint, subway tile backsplash and marble-look perimeter countertops; a dose of brass offers glamour. Meaningful mementoes, from family heirlooms to travel souvenirs, round out this personalized room.

Most days, the young family winds down in this space. Chris makes dinner while Spencer coos happily in his swing. And Staci? Perched on a cushy stool — made by Switch Studio, the upholstery arm of her busy business — the entrepreneur catches up on work emails, sits back and takes in the many fruits of her labours.
Before
The old kitchen stood in the centre of the home but felt isolated. Though it was well maintained, it hadn't seen an update since the '60s. The dark wood-toned cabinets, yellow wall paint and outdated white appliances had to go. Switching up the main-level layout allowed Staci to build her dream cooking space, with access to the backyard and barbecue just steps away.

After
This room gets its warm welcoming vibe from plenty of wooden elements, chief among them the wide-plank oak flooring laid in a show-stopping herringbone pattern. "It's a standout in this small kitchen," says Staci. "Everyone comments on it." A vintage-style runner the designer and her partner, Chris Jackson, picked up on a trip to Crete personalizes the space.
Some things are meant to be: The day homeowner and designer Staci Edwards went to order custom dark blue cabinets, the manufacturer came out with a standard navy finish. Bathed in sunlight from the large minimally adorned window (and double doors), the space can handle the bold colour choice.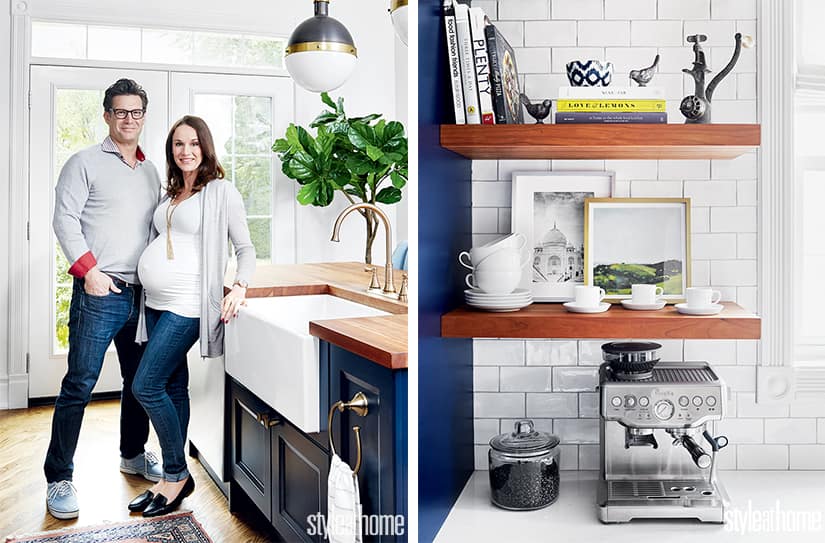 The kitchen speaks to both homeowners equally — right down to the details. "Chris loves India and I love California," says Staci, "so this Taj Mahal print is for him and the Napa Valley one is for me." In addition to offering display space, the floating chunky wood shelves facilitate a coffee-making station, essential for these new parents.
Chris likes to collect specialty spirits from the locales the couple visits, so Staci incorporated glass-fronted cabinetry along this wall just off the dining room. Because the nook is quite shallow, she used upper cabinetry for both the top and bottom sections to maintain a spacious feeling.
Dishwashing is a breeze thanks to the generous apron-front sink. Having a pleasing view of an evergreen faux fig tree and a big print of Paris, an inspiration for future travels, helps, too.