House Tours
Watery blues and natural greenery give this home a fresh holiday feel
House Tours
Watery blues and natural greenery give this home a fresh holiday feel
Beloved Christmas decorations and plenty of fresh greenery wrap this family home in cheery holiday style.
Gingerbread is scenting the air with its sweet spiciness, sleigh bells are ring-ting-tingling and strings of lights are twinkling. No, this isn't the North Pole, but rather an 1,800-square-foot family abode in Oshawa, Ont., owned by designer Michael Penney, who's also purveyor of the Whitby, Ont., housewares and decorating business Penney & Company. "We're people who really love Christmas," he says.

Michael and his wife, Sara, adore the holidays so much that they have already established traditions for their young family, which includes daughters Violet, 4, and Hannah, 18 months. "We play old-school Christmas tunes, dig through boxes of cherished ornaments and make a gingerbread house, something I've done since I was a kid," he says.

This highly anticipated yearly ritual is matched by Michael's passion for decor. "My aesthetic is traditional with a fresh and relaxed sensibility," he says. "Our girls are a big influence on the way our home is decorated – family-friendly with humble finishes that aren't too precious." Neither are they expected: For instance, you won't find any reds or reindeer in this space. Instead, cherished ornaments are the inspiration for the tree and beyond.

"Our vintage decorations play a major role," says Michael. "The way their cheerful colours have been muted by time always gets me." On the tree, he uses them with abandon. "The rest of the decorations are a mix of contemporary silver and gold, good vintage reproductions made from glass and metal, and a lot of cheap-and-cheerful look-alikes bought in bulk to fill up the tree."

He continues the timeless colour palette throughout the rest of the home. "I love soft vintage hues like watery blues, celadon greens and lots of white." These are represented in paint and furniture, as well as in seasonal accents that include an abundance of natural greenery. In addition to adorning the mantel and the banister, the sprightly greens lend themselves well to Michael's pottery and milk glass collections, tucking into bowls, vases and pitchers.

That easy approach is in sync with how the Penneys live year-round. "Our home has generous rooms, except for the original compact kitchen," says Michael. While many would be tempted to knock down its walls and open it up, he and Sara wouldn't dream of it. "We don't live in our kitchen, but we're always in our living room, especially at Christmastime," he says. And it's in the living room where they'll welcome guests, enjoy homemade holiday cookies, sing carols together (as Michael says, "for the whole month of December") and decorate the tree. "It's so heartwarming to come home on a dark winter night and see your tree lit up in the window. It just makes you smile," he says. That, and the smell of gingerbread.
"I inherited this console from my parents, and years ago I painted it a colour called Duck Egg," says homeowner and designer Michael Penney. "The shade has since been discontinued, so I don't think I'll ever paint over it!" The Tiffany blue hue is echoed in the ribbons on the gifts and the garland. "The greenery needed little more than a few bows, as it's so lush and lovely on its own. I love how it puddles on the floor."
The living room mantel gets thoughtfully reimagined for the holidays. "This collection of vintage McCoy and Haeger pottery sits here year-round, but at Christmas I embellish it with seasonal greenery," says Michael. The wreath over the mirror offers luscious juxtaposition to the simple green wool stockings.
Michael sits with his wife, Sara, and their daughters, Hannah, 18 months, and Violet, 4.
The living room encapsulates Michael's design sensibility. "I love to temper traditional pieces, such as these armchairs, with casual elements like the sisal rug," says Michael. For the holidays, he keeps the embellishments simple and natural: Fresh white poinsettias on the coffee table are a foil for the green Christmas tree and wreath above the fireplace.
An antique marble-topped dresser in the living room features a display of treasured family photos and one of Michael's holiday must-haves: "I can't get enough of winter flowers like paperwhites."
"I wouldn't dream of changing the layout of this original kitchen," says Michael, who loves its built-in cabinets, which extend up to the nine-foot-high ceiling. "I updated the room with paint, new hexagonal floor tiles, marble countertops, a subway tile backsplash and fresh hardware. The mix of brass pulls and oversized ceramic knobs lend a real farmhouse kitchen feel." The annual Penney gingerbread house is proudly displayed on a cake stand.
Michael's family-friendly dining room features his signature mix of styles. "The new wooden table and chairs look rustic and are serviceable for family meals – just stash the placemats in the table's drawers and then simply wipe the table down," he says. The linen-upholstered end chair layers in softness picked up by the rug, which has a casual distressed finish. "I must have something vintage in every room, so I added this sideboard I bought online and painted black." It's a nice complement to the chandelier, which Michael loves for its generous size and delicate look.
The storage-savvy dining room hutch demonstrates Michael's affinity for practical pieces. "No upper doors means it feels extra casual," he says.
A hot chocolate bar is fun for adults and kids alike.
"The dining table shows an example of one of my favourite holiday decorating tips: Use the dishware you already have," says Michael, who also filled milk glass vases with snippets of greenery to add to the fresh tablescape.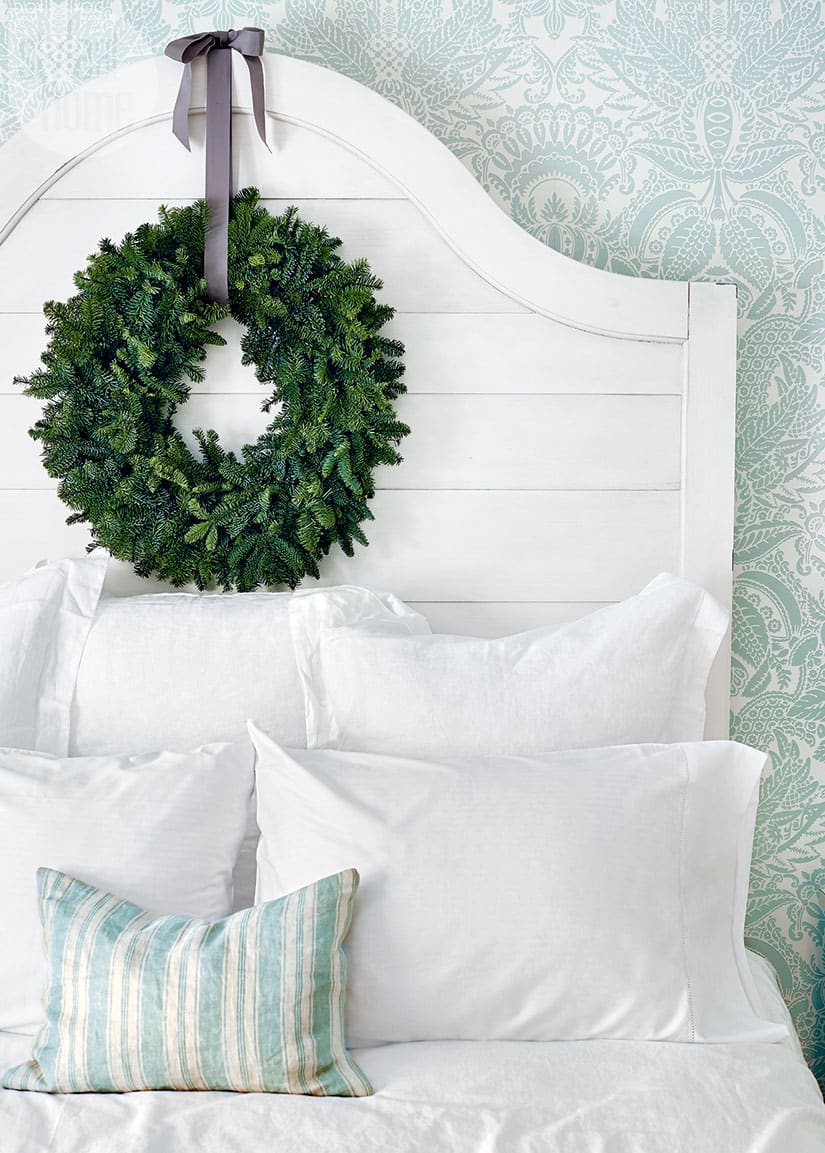 Michael didn't limit his Christmas decorations to the main floor. "Our headboard is tall and can handle a big fresh wreath, so why not?" he says. "It's just plain fun!"