Kitchen
An amazing kitchen makeover on a surprisingly low budget
Image: Donna Griffith / Styling: Morgan Lindsay
Kitchen
An amazing kitchen makeover on a surprisingly low budget
How an upcycling pro created a new-looking kitchen for a lot less than you'd ever expect.
There goes the neighbourhood! Or so it seemed when Janet Hamilton and her 15-year-old son, Josh (now 17), pulled into the driveway of their newly purchased 1960s brick bungalow in Burlington, Ont., – in a 30-foot-long RV. For 10 days and nights, the beast, crammed with home furnishings and accessories, just sat there in the driveway. Nobody had said anything, but everyone was definitely thinking: Who ARE these people?!

"Our last house had sold, but this one was still being renovated. So, you've got to do what you've got to do!" says Janet with a laugh. Looking back, she can't believe she drove the mammoth RV at all. "I had zero experience!" she remembers, recounting how she navigated the quiet, narrow residential streets at a crawl. "I still don't know how I pulled it off!"

But living on-site turned out to be a benefit. "I could hop out of the RV and into the house to look in on the renovations. Overseeing a project is important," says Janet. "As a woman, it can be hard to speak up, but you'll be living there long after the project is done and the workmen have left, so it's no time to be quiet."

Creating a family-friendly kitchen that still felt cool was Janet's biggest priority. Walls were removed between the former cramped pink kitchen and the tight dining room to transform the area into an open-concept living space.

From there, Janet purchased maple cabinets complete with storage drawers at Habitat for Humanity ReStore for $2,500. They were an eyesore, but as the owner of Paint It Like New!, a furniture-painting company, Janet knew she could give them new life. She coated them in a warm mushroom grey at her shop and then retrofitted them into a cook-friendly arrangement. "Brand new, this would have cost $50,000," she says.

For texture, Janet panelled the island with grey-stained cedar planks. "After I finished, the contractor told me I needed to be able to access the plumbing. Uh-oh!" But then she got inventive: She cut a square hole and made a matching panel that could easily be removed. "It's held on with magnets!" she says with a triumphant grin. It's that kind of ingenuity – along with her talent for rejuvenating second-hand finds – that helped Janet get the kitchen of her dreams, with no compromises necessary.
You'd never know the cabinetry in this space isn't brand new, but thanks to a pro paint job, homeowner Janet Hamilton now has a high-end kitchen for thousands of dollars less than a new one would have cost. The 9-by-3-foot island is wrapped in cedar planks that she stained grey. This is where she hangs with her partner, and the four kids they have between them.
Janet did the backsplash tile work herself. "It's easy to do a brick pattern like this," she says. "But for pro-looking results, splurge on a quality tile cutter." White walls and herb pots offset the muted grey cabinetry and the warm tones in the countertop. "White makes a grey kitchen look bright and clean," says Janet.
The natural mushroom browns and silt greys in the quartzite countertop blend with any hue. So earth-toned accents, such as a serene bowl filled with artichokes, look just as wonderful here as a magenta dish filled with oranges would.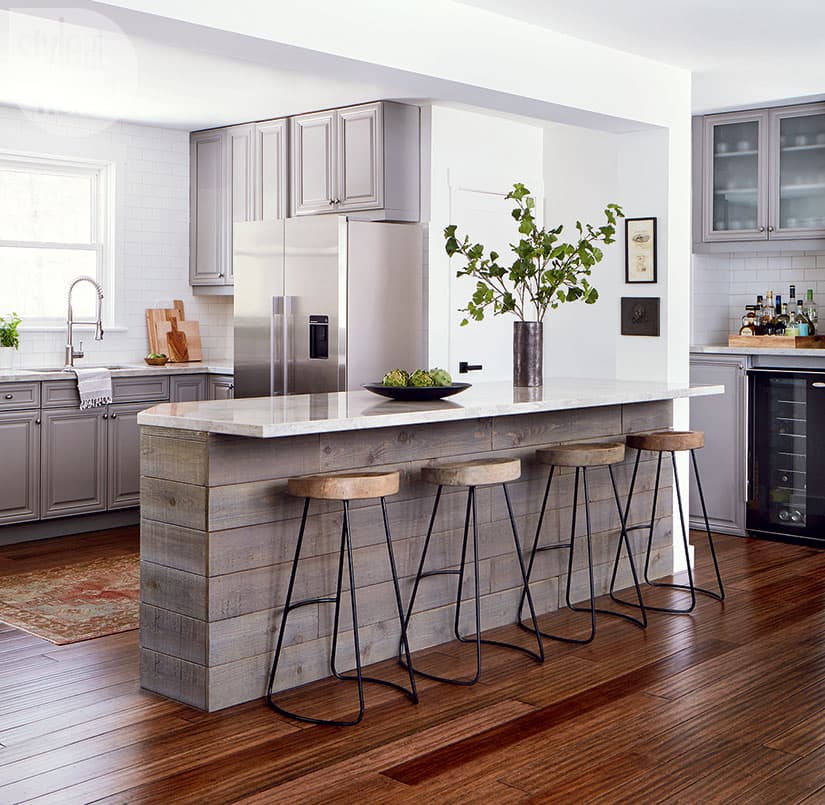 "A clutter-free kitchen makes me feel at peace," says Janet. "I only keep the things I really need. All those books about organizing are right!" A large island with stools makes this the perfect kitchen for having company while cooking. And if wine is desired, the bar area is nearby. "It makes the room feel like there's always a party about to happen," says Janet.
Set out to let its new coat of paint dry, the upcycled cabinetry looks like more of an art installation than a kitchen in progress.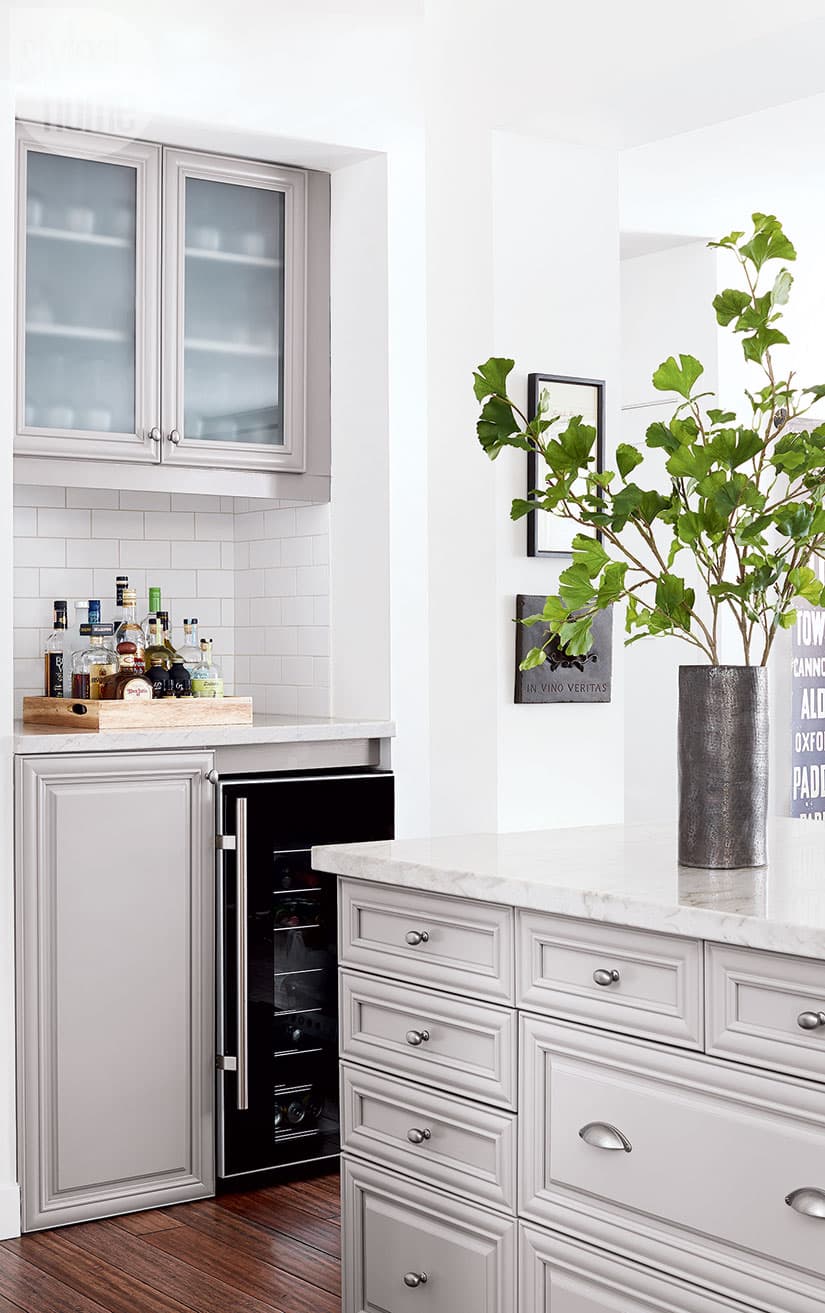 What used to be a linen closet is now the bar area, which adds a definite cool factor to the kitchen. Here, friends and family can pour a glass of wine as Janet cooks. The upper cabinet was refaced with glass doors.

Inspired to upcycle your cabinets like Janet? Here, the pro shares her tips:

1 "There are way more paint colours than countertop materials. So choose your counter first and your paint second," says Janet.

2 "With oak, the grain is impossible to hide," says Janet. "For a cottage look, let it show through white paint. To disguise it, choose mid to dark tones. For a grain-free finish, go with maple, birch or MDF."

3 "For a custom look, paint the island a different colour than the main cabinets," says Janet, "or the uppers a hue that varies from that on the lowers."

4 "Use semi-gloss paint on cabinets for a durable washable surface."

5 "Since the cabinetry is getting pulled out anyway, why not come up with a new layout?"

6 "Whites needn't match," says Janet. "The trim, cabinets, backsplash, millwork, island and shelves can be different whites. In fact, using more than one white adds character."