Design
8 ways your home can help you meet your goals
Design
8 ways your home can help you meet your goals
From an organized pantry to a chic home office, there are more than a few ways your home can help you live a better life and achieve your goals for the new year. Here's how.
"Our homes reflect who we are, but they're also where we create the conditions for our own success," said Denise Ashmore, principal of Project 22 Design. Whether that's setting up a mud room that allows the kids to get out the door with efficiency, or a less home-oriented goal, such as building a stronger retirement account, our homes are rife with resources we often overlook. As you enter the new year, think forward to what you'd like to accomplish. Then, look around. Your house may hold the key.
1. YOUR GOAL: To be more productive at work
HOW YOUR HOUSE CAN HELP: Create a healthy breakfast nook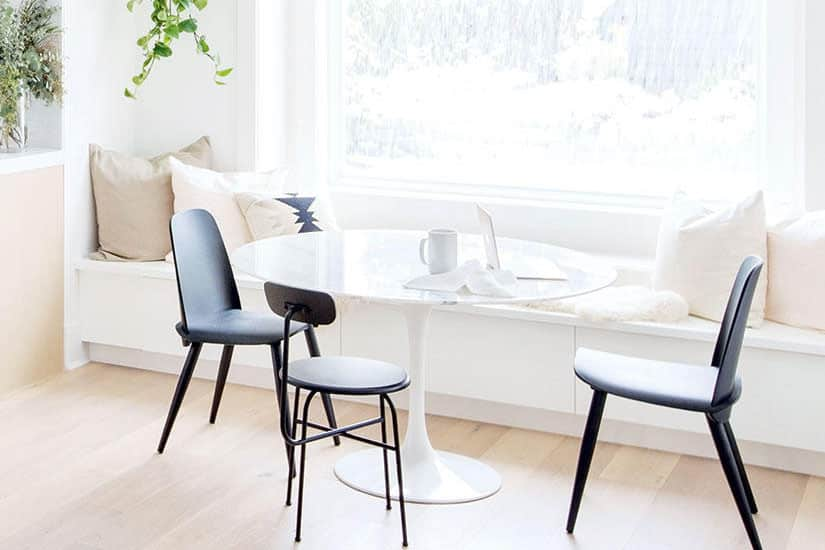 Photography: Janis Nicolay | Story: Textures and Fun Extras Give a Home Family-Friendly Feel
Good days at work begin with smart morning choices. First thing in the morning, however, the last thing on your mind is measuring water and cooking oatmeal. Set up a nook or zone in your kitchen devoted to healthy mornings. Pour granola into your cereal bowl the night before, or set out fruit and a glass for juice. If everything's at the ready, you're far more likely to reach for it.
2. YOUR GOAL: To express your creativity
HOW YOUR HOUSE CAN HELP: Use your passions as home accessories
Go beyond standard home goods to create rooms that celebrate you and your family. Love to knit? Set out a gorgeous basket brimming with colourful skeins of yarn. World travel is your thing? Textiles from India draped over the sofa, or a treasured vase from Vietnam will enrich your living room. Love to swim? Decorate your bathroom in pool tones of aqua, and consider art that features a high diver, or old-fashioned bathing beauty.
3. YOUR GOAL: To save money
HOW YOUR HOUSE CAN HELP: Buy in bulk to stock the pantry
Don't you love when something looks good but doesn't cost much? Glass canisters filled with bulk goods double as decor, bringing natural warmth into your kitchen. Opt for small jars of items you use rarely, such as wheat germ, and bigger jars for ingredients that you power through, such as walnuts for baking, or breakfast cereal.
4. YOUR GOAL: Host more family get-togethers
HOW YOUR HOUSE CAN HELP: Turn your shed into a guest house
5. YOUR GOAL: Save the planet
HOW YOUR HOUSE CAN HELP: Turn to natural accents
Natural elements, such as plants, branches, unfinished wood, cinnamon sticks and beeswax candles, soften a room and make it welcoming and unassuming. They're easy on Mother Earth, and just passing them as you walk through a room can be a gentle reminder to treat nature with care.
6. YOUR GOAL: Write a book, start a blog, make your mark
HOW YOUR HOUSE CAN HELP: Create a corner office
Motivation matters when it comes to goals, but having the right tools is almost as important. Take the time to set up a home office, including a calendar, storage cubbies and bits of inspiration. Don't worry if you don't have a separate room. A little corner in any part of the house will do.
7. YOUR GOAL: Make more memories
HOW YOUR HOUSE CAN HELP: Create meaningful displays
Add a bookshelf, single wall shelf or cabinet with glass doors to the kitchen, dining room, living room or bedroom and fill it with gaze-worthy souvenirs, fascinating objects and oddities from past events and travels that will intrigue young eyes.
8. YOUR GOAL: Make fitness a priority
HOW YOUR HOUSE CAN HELP: Make a date with your stairs!
Add steps and cardio to your daily fitness regime by carrying things upstairs in small batches, or by setting a time to go up and down as quickly as you can. It's not a new idea, but it's a great time-saver. No packing up the gym bag. No parking. And if you need to shower, it's right down the hall.